For the upcoming season, Manchester United will be on the lookout for a new striker. The Red Devils, who finished the season in the worst possible way, are willing to sign top-tier players in practically every position for the upcoming season.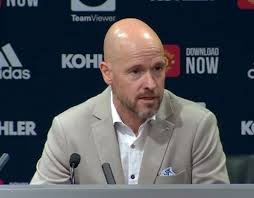 Edison Cavani, who will leave the club after his contract expires in July, will have to be replaced by Erik Ten Hag. United need to sign two top strikers because they lack goals scorer in 2021/2022 due to Greenwood's suspension and Cavani's injury. Only Cristiano Ronaldo who try his best to fill the void, but the Portugal international is no longer young and was unable to be consistent last season.
Manchester United suffered another setback when Liverpool agreed to sign Benfica striker Darwin Nunez, who is Man Utd's main striker target. The Uruguayan striker has had a good season for Benfica, scoring 34 goals in 41 appearances. Man United have suffered a significant setback by losing this player.
After failing to sign Darwin Nunez, Manchester United should consider the following four players.
4. Dominic Calvert-Lewin (Everton)
No. 9 Everton Dominic Calvert-Lewin isn't unfamiliar with the concept of transferring interests. After scoring 21 goals in all competitions in the 2020-21 season, he was in high demand. The England international has also been linked with Manchester United. According to the Metro, Everton priced him out of the market by suggesting an £80 million valuation.
Calvert-Lewin only played 18 games in all competitions last season due to injury, scoring only five goals in the process. He will undoubtedly improve his numbers with more playing time. Arsenal is said to have his name on their potential transfer list, according to the Express.
Calvert-Lewin has the potential to add a new dimension to Manchester United's game. The 6'2″ attacker is known for his headed goals and is excellent in the air. Ten Hag can put him up front with Ronaldo, giving United's other players lots of opportunities to cross. In the absence of the Portuguese, he can also be deployed as a lone striker. According to Goodison News, a bid of between £50 million and £60 million will be required to purchase the 25-year-old Evertonian.
3. Danny Ings (Aston Villa)
Aston Villa are willing to sell Danny Ings this summer, according to Football Insider247. The 29-year-old striker was signed from Southampton last season and has only scored seven goals in 31 appearances for Villa in all competitions.
No one can doubt his skill in front of the goal, however. He scored 22 Premier League goals in the 2019-20 season, ranking joint second in the Golden Boot race.
Given Ten Hag's high-pressing tactics, United are unlikely to pursue Ings. To complement Ronaldo, they are searching for a young striker who can play anywhere in the front three spots.
However, if Manchester United decides to keep Martial this season, bringing in Ings as a backup striker isn't a bad idea. He'll also come at a modest cost, allowing the Red Devils to put more money into other positions.
2. Ivan Toney (Brentford)
Brentford finished 13th in the Premier League last season, which was a fantastic achievement. Ivan Toney is one of the key reasons for the campaign's success. Last season, he scored 14 goals in all competitions, 13 of which came in the Premier League. It's worth noting that Toney led the Championship in goals scored with 31 in the 2020-21 season.
Toney combines scorching speed with toughness to keep opposing defenders on their toes. Ten Hag can also play him on the sides because to his speed. Transfermarkt values the 26-year-old forward at £31.5 million. Brentford are adamant about not selling their crown gem, but a large offer might tempt him to the Theatre of Dreams.
1. Richarlison (Everton)
Richarlison is the last name on our list. Those in the United camp think highly of the Everton striker. Ten Hag was reportedly approached by the Manchester United board of directors, who mentioned his name as a possible target.
Last season, the former Watford striker scored 10 Premier League goals. Everton's escape from relegation was made possible by his late-season form. Richarlison is also a key player of the Brazilian national squad, having scored 14 goals thus far. Tottenham Hotspur have lately expressed interest in the player, with a £51 million deal rumored, according to Team Talk.
Richarlison has a lot of natural speed and dribbling ability. The 25-year-old Brazilian can play in any forward position because to his speed. His versatility might be a significant asset for Manchester United as they continue to construct their future squad.
After failing to recruit their top target, Darwin Nunez, Manchester United could investigate these four strikers.